North State Medical Center provides a wide range of services to meet your needs. Explore the sections below to learn more about the areas of interest to you.
Family Care
At North State Medical Center, each member of your family will receive the care they need at any age. We provide a continuing and comprehensive range of healthcare services in a convenient location and comfortable environment. Our family care practice enables us to serve your needs over a long time, thereby developing a trusted provider relationship that you can count on through the joys and challenges of life.
Pediatrics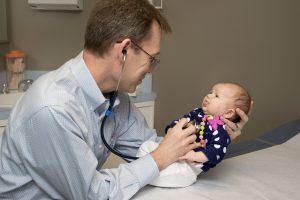 At North State Medical Center, as your child's pediatric primary care provider, we prefer to first get to know your child during a well-child visit. We will evaluate your child's development, health history and general well-being and talk with you about any concerns or questions you may have. We'll also address preventative care such as immunizations.
We see our youngest patients for the first time during newborn visits to ensure they are off to a strong, healthy start and that any problems are addressed as quickly as possible. When your child does get sick, we will already be familiar with them and any health issues. We will have already had the chance to earn your trust. You'll rest easy knowing that our whole team will be working to get your little one on the road to a quick recovery.
Dr. Godwin is the only area pediatrician who does admissions for patients to the local hospital, Person Memorial Hospital. As a past Chief of Staff and a current Member of the Board at Person Memorial, Dr. Godwin will serve your child with invaluable knowledge and experience.
We know that selecting a pediatrician is an important decision and we are happy for parents and expectant parents to schedule a time to come by and meet us and tour our facilities. If you are interested in scheduling a time to get to know us better, please call our office at 336-599-9257. We look forward to meeting you and your family!
Internal Medicine
Our Internal Medicine Specialists provide comprehensive care for adults, including overall wellness and disease prevention, diagnosing and treating both acute and chronic illnesses, and treating minor injuries. We have over 45 years of combined experience in caring for patients. Daily walk in appointments are available. We encourage you to call our office at 336-599-9257 to see how we can meet your healthcare needs.
Primary Care
Being a Primary Care practice means that you, our patient, are at the center of everything that we do. As your primary care provider, we are your first contact when any medical concern arises. Our goal is to work with you to keep you healthy and prevent as many illnesses as possible. We offer routine wellness physicals to make sure that no unknown problems have arisen and we offer preventative care such as vaccines to keep preventable illnesses at bay. We are a knowledgeable resource that offers many work related services such as pre-employment physicals, drug screening tests and workers comp exams. We also treat illnesses such as colds and flu, manage chronic illnesses such as diabetes and treat minor injuries, such as cuts requiring stitches. In the event that you have a health issue that requires a specialty outside of our scope of care, we can refer you to a specialist and work with them to help them understand your overall individual care needs. We are more than just your primary care provider. We are your partner in your good health.
Wellness
Our goal is to keep you healthy by preventing as many illnesses and health problems as possible. To that end, we offer the following services:
• School Physicals
• Annual Physicals
• Medicare Wellness Exams
• Newborn Visits
• Flu Shots
• Vaccines (both childhood and adult)
General
Our general health care services include:
• Prevention of Heart Attack, Diabetes & Stroke
• Primary Care
• Pediatrics
• Allergy Testing
• Pain Management
• Workers Comp
• Drug Screening
• Pre-Employment Physicals
• Hearing Testing
• Stitches
• Wart treatment
Diagnostic Testing
The following diagnostic testing services are available through our office:
• Ultrasound
• ANS testing
• ICG
• EKG
• Holter monitor (take-home heart rate monitoring)
• Memory
• Spirometry
• Laboratory Testing
Visit Types
North State Medical is dedicated to providing our patients with the most convenient appointment types. We offer Same Day appointment slots. If you are in need of seeing one of our providers last minute but do not want to wait to be seen as a walk-in, please call to schedule a same-day appointment. North State offers family visits as well. We know how hard is it when you have a family full of little ones and need them all to be seen. As a family visit, this ensures that you and your kids will be seen by the doctor all in the same room. Convenience at it's best! Don't worry, if you are husband and wife and would like to be seen together this can also be switched to a family visit.